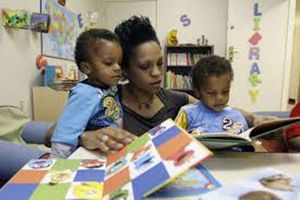 Aniyah C. O'Neal Book Mobile for Literacy Project

According to the, National Center on Family Homelessness, approximately "2.5 million children are now homeless each year in America,"  and the number continues to grow.   It is a systemic problem - facing nearly every state, county, and city throughout the US.  Between 2013-2014 school year, there were an estimated 1.4 million school aged children not enrolled in US school systems.   Although there is no accurate means of measuring the exact number of children not enrolled, it is suspected that the number of homeless children significantly increase this number.   In 2015, 1,263,323 homeless students were registered in public schools.  As would be expected, a significant number of these children, without a stable environment, struggle to meet academic standards.  
One of Mary O'Neal's passions as an educator, was her fight for literacy.  As a core member who helped shape the Reading Is Fundemental program in the DC Public School System, Mary strongly believed that everyone had a right to proper basic education.   She also firmly believed that, if we are to effectively attack the problem of literacy, we need to start in the womb.  This program is specifically designed to function, adding the mobile, in the same manner as Mary O'Neal conducted her classes and reached out to involve the community at-large. 
When it comes to education, literacy should be our number one focus.  You can't solve a math problem if you can't read it.  You can't pay your bills if you can't read them.  Truth is, you can't fill out a job application if you can't read it.    
To assist in maintaining the educational development of these forgotten children, and their families, The Aniyah C. O'Neal Book Mobile for Literacy Project is designed to provide books, learning tools, mentoring, and tutoring to shelters that house homeless families with children within the Washington, DC Metropolitan are